Facebook is a place where you can share your feelings and connect with your friends and family. As well as Facebook is also known for remembering and honouring that loved one we have lost. Everybody has to die but when a loved one passes away, their account turns into a memorial of their life, friendships and experiences they've gathered. A few days ago it was not possible to gain some control of that memorial account but Facebook made it possible. Now you can add a Legacy Contacts or appoint someone you trust who can control your account after your death. You don't need to worry about that your selected Facebook legacy contact has some limitations to control your account like legacy contact can't read your text messages.
In this article, you will find a list of Facebook legacy contact's limitations and what a legacy contact can do with your account. At the end, you will find How to set up Facebook legacy contact.
What is Facebook Legacy Contact?
According to Facebook,
A legacy contact is someone you choose to look after your account if it's memorialized.
Facebook introduced this feature in 2015. Actually, give people a chance to choose a legacy contact. As I said earlier Facebook legacy Contact allow you to add a family member or a trusted friend who can manage your account when you passed away. When someone let Facebook know about your death incident, Facebook will memorialize your account and allow your legacy contact to manage your account.
What can Facebook Legacy contact do with your account?
Facebook legacy contact will be able to do following things-
Write a pinned post for your profile (As like: Share a final message or provide information about a memorial service on behalf of yourself).
Legacy Contact can respond to new friend requests (Old friends Or Family Member who weren't add on Facebook).
Update your profile picture and cover photo.
Request the removal of your account.
Download a copy of what you've shared on Facebook.
Note:  If your timeline and tagging settings don't allow anyone to post on your timeline, your legacy contact won't be able to add a pinned post to your profile once it's memorialized.
Limitations of Facebook Legacy Contact
Legacy contact can't log into your account
Can't able to remove or change past posts, photos and other things you shared on your timeline.
Can't read your messages
Can't remove any of friends or make new friends
Can't add a new legacy contact
How to Setup Facebook legacy Contact
>>First of all, go to Facebook settings and click General. Scroll Down to Manage Account and Click Edit.
>> Now, add your trusted friend or family member who can manage your account. As I add Abir Hossain as my Facebook Legacy Contact. When you select one click to Add.
>> When you add someone as legacy contact a facebook message will be sent to him/her that you chose him/her as your facebook legacy contact. An inform message format already set up on facebook. If you want you can edit the message and click send. Otherwise, you can keep it secret by clicking not now. Facebook will notify your legacy contact when someone claims memorialize of your account. Informing before is the best option.
>> When you click send, Facebook will notify that person and add him/her as your Facebook legacy contact. You can remove or change legacy contact any time by clicking Remove and add someone new by following the same procedures.
Note: You can't add legacy contact if you are under 18. This feature only available for 18+ people on Facebook.
Data Archive Permission
Tick on Data Archive Permission to allow your facebook legacy contact to download a copy of what you've shared on Facebook. This may include posts, photos, videos, and info from the about section of your profile. Messages won't be included.
Request Account Deletion
If you don't want a Facebook account after you pass away, you can request to have your account permanently deleted instead of choosing a legacy contact. Your selected Facebook legacy contact also has the power of requesting your account deletion after you passed away.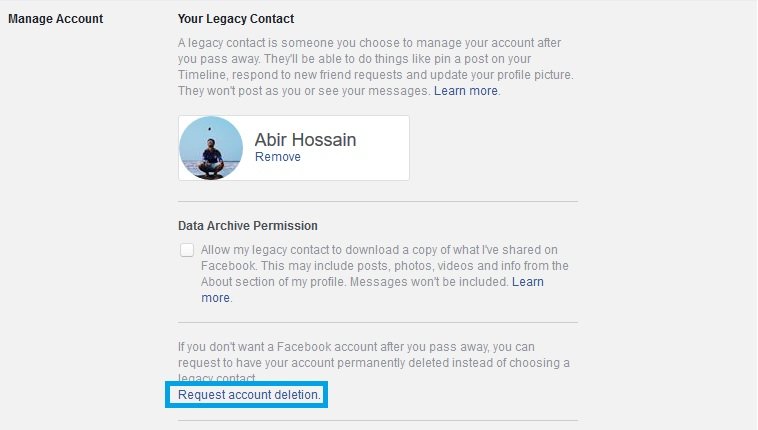 You can add your legacy contact from any mobile device also by following the same procedures. It's really important to add a Facebook legacy contact as we don't know when we die but we all have to die. It might seem little morbid but your passing will be hard for everyone you loved or people you care about. Giving someone the permission or ability whatever you say to memorialize your account or delete, it can help. It will keep your account safe and recoverable after your departure as well as helps people to remember your work by your account activity like updating profile picture or cover picture. Most importantly legacy contact can share that information you wanted to share with your people. I recommend everyone to set up a facebook legacy contact for memorialization.
Hope you like this article, Enjoy Facebooking:) and please concern us if you have any queries or suggestion in the comment box. Don't forget to share what you learn with whom you care <3.