As we all know Facebook is the largest social media in the world. Nowadays facebook creating a social identity for people who largely depend on Facebook for their socialism. Besides facebook helps you to connect your friends to your network. Now facebook becomes that type of medium you can do many things with one personal account. In this article, I will tell you about Facebook blogging and how to start a blog on Facebook. It's really necessary to make your Facebook security strong before start blogging on Facebook. Turn on Facebook Two-Step Authentication and  Facebook Login Alert to make your Facebook account strong.
If you are a newbie and don't know anything about blogging then I must suggest you study it. I will try to make the concept clear shortly but for deeper knowledge, we have a super search engine machine where you can find and analyze over anything named Google. You just have to search for it.
What is blogging and what does Facebook blogging mean?
The earlier stage of blogging just means a personal weblog in which a person would share and journal about their day. They used to share their knowledge in a specific or multi-concept webpage.
According to Wikipedia Blogging is –
A blog (a truncation of the expression "weblog") is a discussion or informational website published on the World Wide Web consisting of discrete, often informal diary-style text entries ("posts"). Posts are typically displayed in reverse chronological order, so that the most recent post appears first, at the top of the web page.
For example, you have good knowledge about food and you know many recipes that you want to share with people all over the world. Now, what to do? You just have to create a website for your own and published your posts about foods and recipes. But we know creating and maintaining a website is expensive. At the first stage, you may have not the ability to maintain an own blog.
Hope is that there are free blogging options. You can create free blogs under Blogger or WordPress and many more options. Problem is that you don't have total control over it. They can ban your blog anytime without asking you. Recently Facebook enables facebook blogging for free through Facebook notes.
What is Facebook blogging? And What are the differences with others?
As we all know, Facebook started its journey as a social media site in 2004. Mark Zuckerberg is the leading founder of Facebook. Facebook passed a long way and now became a leading company in social media and other platforms. They constantly expanding their business and adding more features for their users. Facebook Notes is the feature that makes the platform to do blogging on Facebook for free of costs.
Facebook notes were first introduced in 2006. Day by day this feature became more popular and advanced. When you update the status in your Facebook account post, have a limited character length and don't have HTML capability. But facebook notes for blogging gives you the capability to write more and you can add more picture, videos with HTML tagging, Link building, and some other blogging facilities. The main difference between other free blogging platforms and Facebook is you already have a good fan base in Facebook blogging through your Facebook account.
Whatever you write or share in Facebook notes, it will directly be forwarded to Facebook friend's news feed and your friends and relatives can read this instantly and share whatever they read with their friends.
Now I will tell you the way how to start a blog on Facebook. At the end of the article, I will discuss the advantages and disadvantages of Facebook blogging.
How to start a blog on Facebook through Facebook notes
As I said earlier, you can start a blog on Facebook through Facebook notes. Though Facebook doesn't draw much attention to Facebook notes people loved the feature. Content is the king and content marketing becomes the most important thing for any business in social media. For people who don't have a dedicated blog or website facebook notes are a great alternative them. The best thing is that you can promote your notes through the Facebook page.
How to set up a blog on Facebook
Setting up Facebook notes is easier on Pc or laptop. To set up Facebook notes there are some procedures as follows.
At first, login to your Facebook account and go to your Facebook profile from a pc or laptop.
Click on More to expand the list. Here you will find Notes at the end of the list. Click on Notes.
Now, Click on Add Note to start facebook blogging.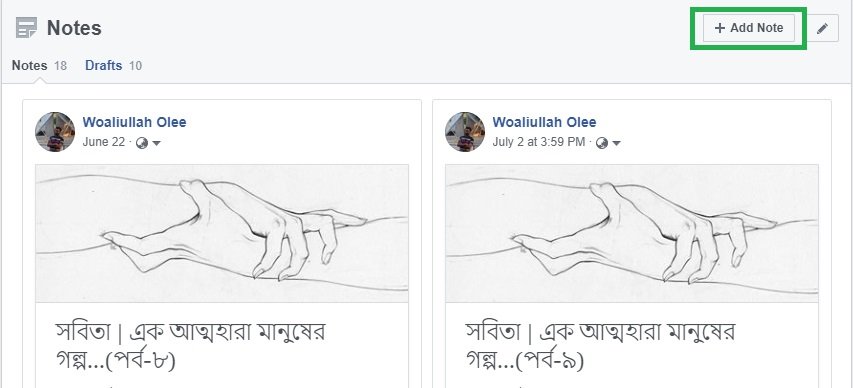 Here you will find a lot more options like 'Drag or click to add a photo' which is known as a thumbnail or cover photo. Make a Title for your long post. After that, you will find 'write something…' where you can add your writings or you can write there instantly.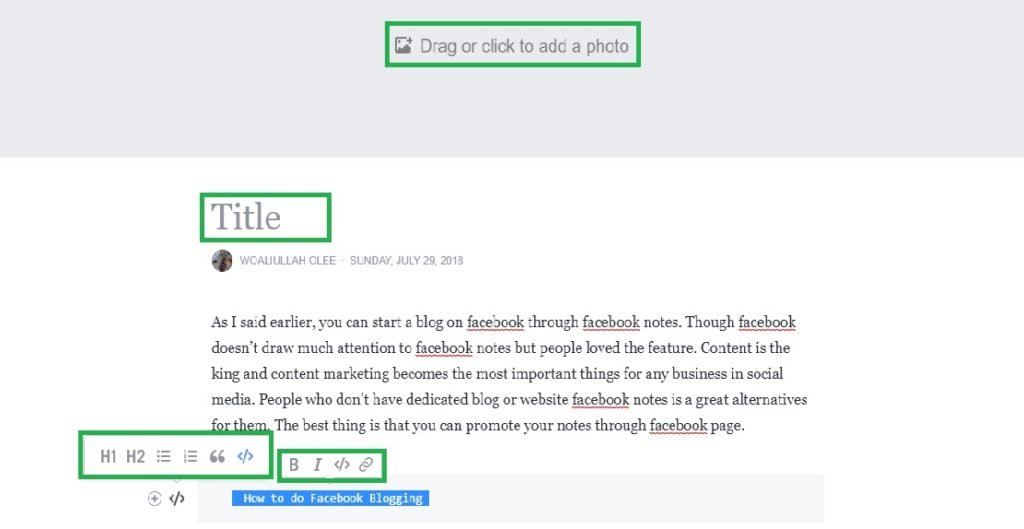 When you start writing in the Facebook notes writing sections, a pop-up will appear on the left side of the note like the image below. Through this pop up you can add photos or videos from your computer and share any embedded pictures/videos related to the topic.

Another part helps you to make your text Html coded H1, H2 and also help to make bullet points, quotes, bold the text, etc. This part is really necessary for facebook blogging or any type of blogging. You just have to select a bunch of words to make the sentence H1, H2 or make it bold or to make a link on it. Facebook notes approaches are so easier that you can catch up the point at a glance.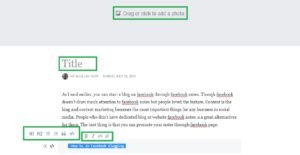 Whenever you finished your article it's high time to publish the note. But before publishing the note make sure that sharing option goes through Public. There are several sharing options. You can share the note with your friends only or you can share the note except some people you mentioned. You can save the note as drafts as well.
Advantages of Facebook blogging
As we already know the basic advantages of Facebook blogging. There are several benefits to blog on Facebook. We are now living in a world that is highly dependent on social media. If you want to survive with your business or passion you have to take benefits from social media like Facebook. One and the only thing is that is content and You have to spread your content to your targeted customer or readers. Some specific advantages of Facebook blogging given below.
First thing is that you can blog directly on the most powerful social media platform through Facebook notes. Where you will find a great and vast audience community and you can give your message to them directly. Facebook allows you to make fan followers through the Facebook page and build a community through Facebook groups where you can share your notes directly.
Secondly, you have SEO advantages in Facebook blogging. Google and other search engines indexed facebook's longer posts quickly. For that, you just have to make sure that do your SEO correctly, add hashtags, and tag your close friends to share the content most.
Thirdly, you have a great opportunity to drive maximum traffic from Facebook to your website. When you post constantly on a regular basis as you post once every week, that will give you more prominent search value on Google as well Facebook. If you post quality content regularly that increases your audience regularly.
Finally but not least, you can write as much as you want. There is no limit on character and you can add many things together on Facebook notes. You can see your insights so you can justify your content. Your fans, Facebook friends, relatives, or other people on Facebook can comment on the note, like the update, and share. You can also rewrite the content anytime.
Most importantly you can boost your content from a Facebook page which allows you to catch a huge audience.
Disadvantages of Facebook blogging
There are some disadvantages of Facebook notes. You should keep in mind those disadvantages carefully while blogging.
>> Facebook blogging is not so SEO-friendly about permalink like other traditional blogging platforms. Privacy settings can hamper your post permalink. When you permalink a post to a website or other post. It should be viewable to all but if your privacy settings designate a specific person or more to see the link then it would be horrible. You have to be careful about Facebook notes privacy settings.
>> Still, now Facebook Notes doesn't have a custom domain feature. To make your blog professional it's quite necessary. Though this is not mandatory but can be better.
>> The major disadvantage is that Facebook blogging creates spamming opportunities. When you make your privacy public spammers can easily comment on that and there is no option to prevent that unless deleting regularly or blocking the spammers.
>> Independent researcher Chaman Thapa mentioned a bug for Facebook blogging in his personal blog is "Facebook Notes allows users to include tags
. Whenever a
tag is used, Facebook crawls the image from the external server and caches it. Facebook will only cache the image once however using random get parameters the cache can be bypassed and the feature can be abused to cause a huge HTTP GET flood." To know more, read an article about Facebook notes on his personal blog.
Many people don't have much interest in Facebook blogging. But as a beginner, start blogging on Facebook is a great idea. Though there are some disadvantages to a free blogging platform, Facebook notes have more advantages. You can start facebook blogging to know the blogging process before investing in paid blogging. If you have already a website you can merge the website with Facebook notes. Post regularly on Facebook notes beside your own blog. Interlink those posts to the main website and transfer your Facebook audience to your own blog.
Now a day, Facebook becomes a giant competitor of Google. Day by day Facebook updating its features and we heard that more updates coming soon on Facebook notes with more opportunities. So it's a great opportunity for an established or new bloggers to blog on Facebook. Blogging and content creating become a turning point for any business and Facebook offering you blogging free of costs. So you should catch facebook blogging opportunities where you can promote your business more conveniently. If you are facing any problem with your Facebook account or hacked by someone then follow the link to recover your Facebook account.
Enjoy Facebooking:) and please concern us if you have any queries or suggestions in the comment box. Don't forget to share what you learn with whom you care.