Many people waste their valuable time unconsciously on Facebook, Instagram or other social media. They don't even know how much time they spend on these social media. Many parents and guardians are always in a tension that are their children spending quality time on social media like Facebook, Instagram. They also tensed about the online habit of their children. By taking these issues seriously, David Ginsberg, Director of Research at Facebook and Ameet Ranadive, Product Manager Director at Instagram mergely announced new tools to help their user manage their time on Facebook and Instagram. These new update of Instagram, Facebook time management tools will help people to manage their time on these social media.
Facebook and Instagram authority hoping that these new features will give people more control over the time they spend on their platforms. Also considering the foster conversations between parents and teen about the online habits that are right for them. Authority of both social media clearly says that they want people to spend the time on Facebook and Instagram to be intentional, positive and inspiring.
How to Setup Instagram, Facebook Time Management Tools
As soon as possible, these time management tools for Facebook, Instagram will appear in your account settings.
To see Instagram Time management tools, you have to Tap on" Your Activity" and To see facebook time management tools you have to tap on "Your Time On Facebook".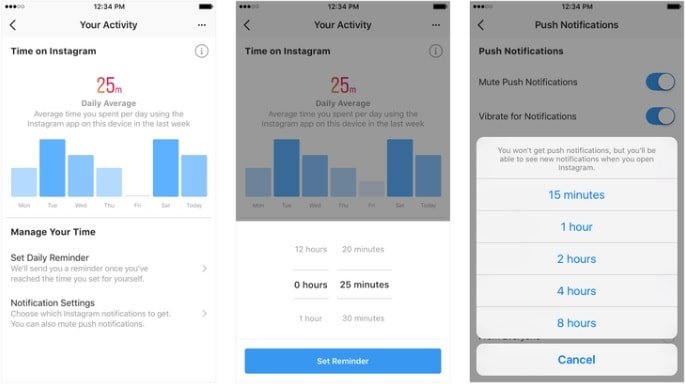 Facebook Time Management Tools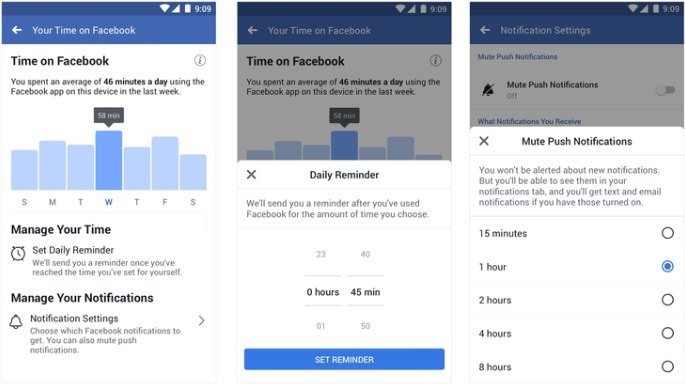 Instagram, Facebook Time Management Tools
Benefits of Instagram, Facebook Time Management Tools
When you tap on these settings, at the top, you will be able to see a dashboard showing your average time for the specific app on that device.
You can tap on any bar to see your total time for that day. Below the dashboard, you can set a daily reminder to give yourself an alert whenever you have crossed the limit time you want to spend on that app for that day. You can change or cancel the reminder any time you want. You can quickly access the new 'Mute Push Notification' settings by tapping on 'Notification Settings'.
When you need to focus on your work, this setting will limit your Facebook and Instagram Notifications for a period of time.
Facebook and Instagram authority believe that these tools will help people to understand how much time they spend on their platforms. So they can better manage their experience.
The Necessity of Instagram and Facebook Time Management Tools
Nowadays we spend more time on social media and burning question is that maximum of us don't have any idea whether it is good or bad for us. Before announcing Time management tools update, facebook accomplished a long research on this issue. Facebook and Instagram Authority work with many psychologists and Sociologists who deeply research on it and suggest authority about the consequence. After the Hypothesis of those researchers, the authority announced the time management tools.
Moira, A social psychologist who has studied the issue and impact of the internet, found that parents worries about their children screen time and what connections they maintain on the internet. They also worry about spending too much time on their phones when they should be paying attention to their Families and Children.
Psychologist Sherry Turkle said in an opinion that " mobile phone redefine modern relationships and making us alone together'.
psychologist Jean Twenge asserted that ' Technology use correspondingly increasing in teen depression.
Sociologist Keith Hampton studied on public spaces and assert that people spend more time in public now. He also suggested that cell phones in public are more often used by people passing time on their own, rather than ignoring friends in person.
Facebook always wanted to be a place for meaningful interactions with users friends and family and enhance offline relationships. We all know that Strong relationships help to mobilize a person 's happiness.
According to the research, Facebook found how people use the technology and many good and bad thing as well. For your convenience, I listed some as follows-
People can passively scroll through posts or actively interact with friends or family through messaging and commenting on each other's post. Also found that when people interacting with other people they care about can be beneficial. On the other hand, just watching others peoples activity from the sidelines can make people feel worse.
Internet largely taking people away from social engagement in person. Researchers hypothesize that negative comparison can happen when people reading about others online.
Spending time on Online can be positive or beneficial when people interact with relatives, classmate, colleagues and share messages, posts, and comments with close friends and reminiscing about past interactions.
In one research, Facebook found that stressed students choose Facebook to make themselves feel better instead of visiting other websites based on music, games or other interests. I suggest watching the video to make yourself clear.
Facebook working on time spending issue and want to make Facebook more about social interaction less about spending time. Facebook CEO Mark Zuckerberg recently said, "We want the time people spend on Facebook to encourage meaningful social interactions."
Both the authority wants to consider how people spend time on the internet and It's not all about Facebook or Instagram. These new Instagram, Facebook time management tools announcement is the first step for Facebook and Instagram. They are committed to continuing their work to build safe, kind and supportive communities.
These updates are coming soon on Facebook and Instagram. We have to wait to see how much facebook time management tools work for us.